About the Initiative
"Akhlaquna" is an initiative launched by Her Highness Sheikha Moza bint Nasser, Chairperson of the Board of Directors of Qatar Foundation, during the Qatar Foundation convocation for the year 2017, emphasizing the interlink between knowledge, education, and good morals, and promoting the message of ethics as a basis for success in all aspects of life.
The initiative sheds light on the comprehensive morals adopted by the Prophet (peace be upon him), such as mercy, tolerance, honesty, generosity, humility, honesty, justice and equality.
The award honors a number of categories for morally influential personalities who have beneficial initiatives, as it is divided into four categories: Akhlaquna Juniors, which represent ages 7-14, the Youth category 15-18, the category of individual contributions from the age of 19 years and above, and finally Akhlaquna Appreciation Award Awarded to personalities who have dedication and sincerity at work.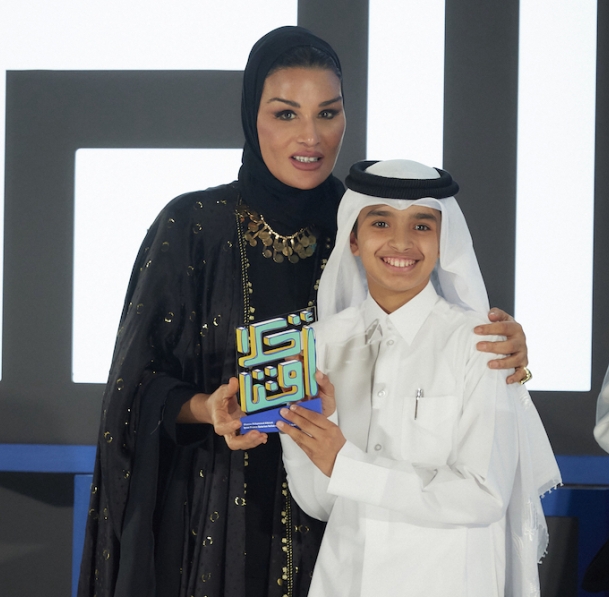 Vision
Spreading good morals and positive behaviors among the community.

Mission
Encouraging individuals and owners of positive initiatives with a moral impact to participate with us and highlight on distinguished positive personalities in society.
Our Aims & Objectives
Highlighting the effective role played by Qatar Foundation in spreading Prophet Muhammad -Peace be upon him- ethics as an essential part of its mission.
Encouraging youth and young people to adopt the morals of our noble Prophet Muhammad -Peace be upon him.
Honoring those who have moral contributions and initiatives in society.
Appreciating and honoring those with good morals and wide impact in their field of work and specialization.
Annual Campaign
Our humility is a way of life campaign - 2023
The award annually releases a slogan that urges the society in general to behave ethically and in good manner. All state institutions are urged to cooperate with us in activating this slogan by presenting several various events and activities that fall under it.