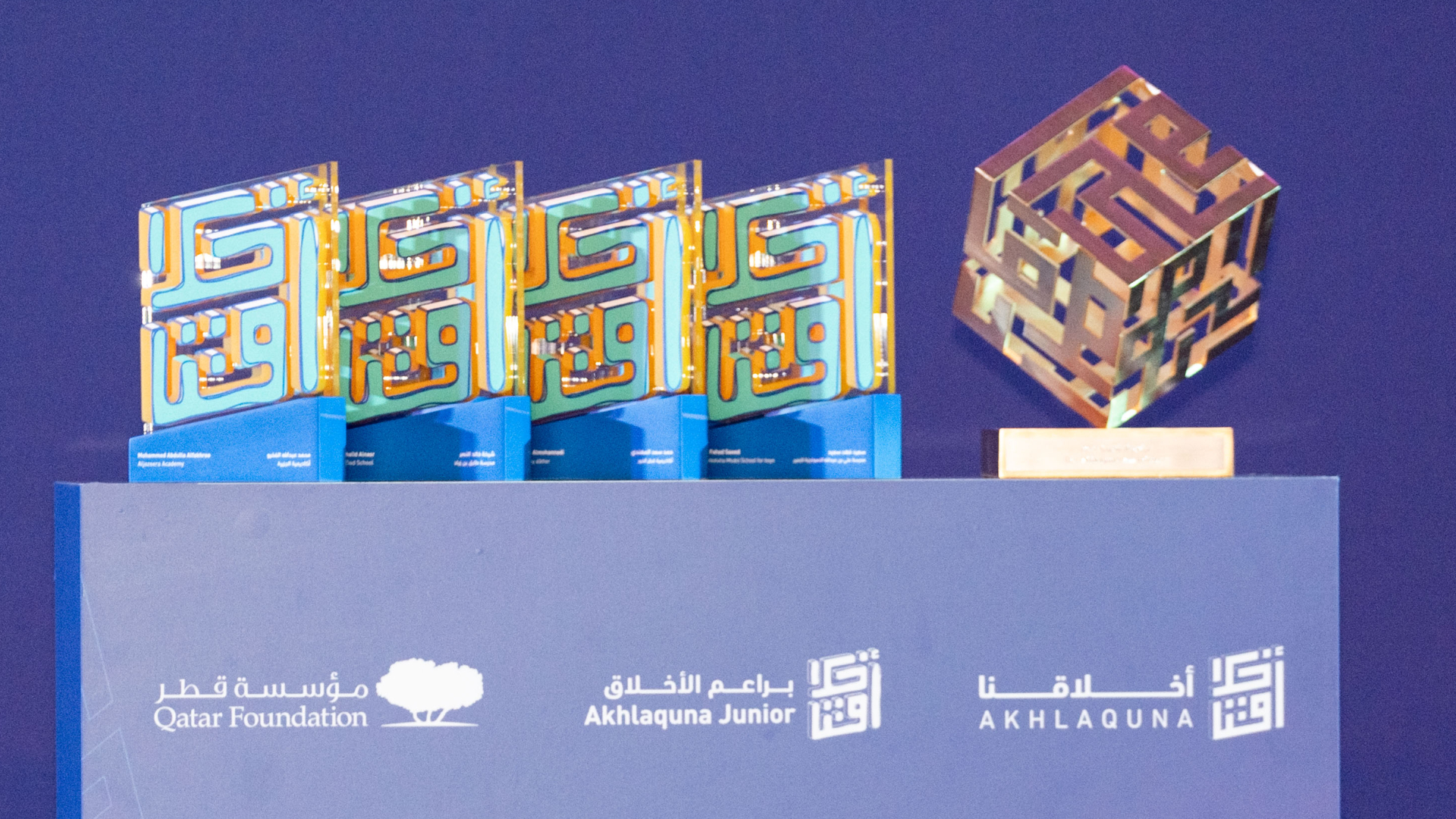 The AKHLAQUNA Award honors extraordinary contributions to social benefit.
About the AKHLAQUNA Award
AKHLAQUNA is an award introduced by Her Highness Sheikha Moza bint Nasser, Chairperson of Qatar Foundation (QF), at QF Convocation 2017, to endorse the idea that knowledge and morality are intertwined, guiding together the prosperity of societies.
The Award highlights Prophet Mohammed's (PBUH) universal and inclusive moral values, such as mercy, tolerance, honesty, and generosity, in the minds of the younger generation, recognizing those who exemplify great moral character through initiating projects that serve their community and beyond.
Submission Criteria
Both individuals and groups can apply for the AKHLAQUNA Award.
Submissions are accepted from nationals and residents of Qatar, between the age of 15-24 when applying individually. Groups applying to the award should ensure that at least 50% of the group members are within the age range of 15-24.
The scope of the project must embody universal and inclusive moral values, including but not limited to: mercy, honesty, tolerance and generosity.
Projects must be based in Qatar.
Projects must be running for at least three months.
MORALS GUIDE KNOWLEDGE TOWARD THE GOOD OF HUMANITY, AND THE RELATION BETWEEN THEM IS INTERTWINED.
Mercy

Mercy is a quality embraced by all faiths and cultures. It is the message of Prophet Mohammed (PBUH) and the foundation to building a unified society, where people are not only merciful to each other but to all of God's creations

Tolerance.

Tolerance is a virtue encouraged by all religions and embodied by Prophet Mohammed (PBUH) throughout his life. With tolerance, we create a peaceful world, where people respect those who differ from them, and live together in harmony.

Honesty

Honesty lies at the essence of morality. It is a merit of Prophet Mohammed (PBUH) and his companions. By embracing honesty as a principle of life, we are shaping a society built on trust and sincerity.

Generosity

Generosity creates a sense of solidarity and equality among community members. With generosity, the world reaches out to those in need with compassion and goodwill.
An esteemed jury will review the projects
Dr. Jassim Sultan
Director of Wijdan Cultural Center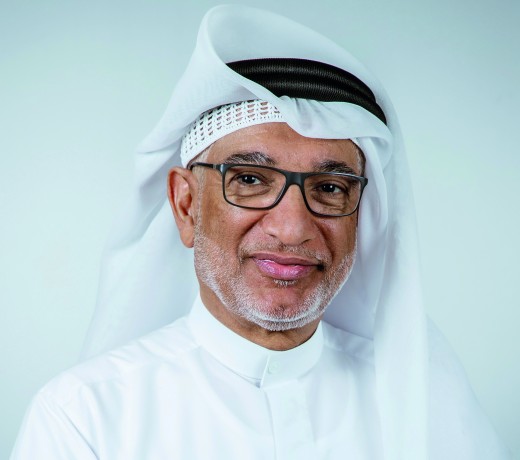 Dr. Jassim Sultan is a strategic planning consultant in many private and governmental institutions. He is also managing Wijdan Cultural Centre under the Ministry of Sports and Culture, and working full-time on his initiative, The Nahda Project, which aims to prepare future leaders with the necessary skills to guide the community. He has published a number of books including "A New Beginning" and "The Philosophy of History."
Dr. Hissa Mohammad Sadiq
Emeritus Professor at Qatar University and former Dean of the College of Education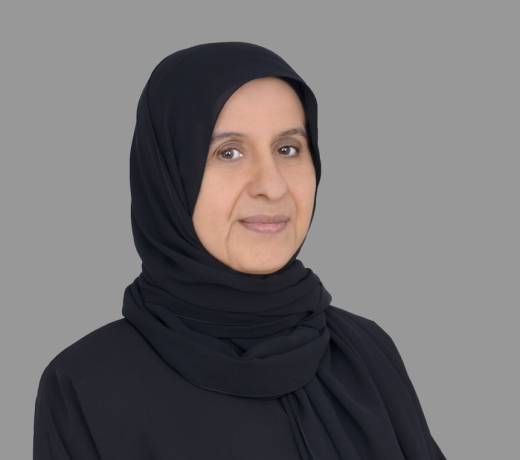 Emeritus Professor at Qatar University and former Dean of the College of Education. She received several research grants from the University of Qatar and Qatar National Research Fund (QNRF) and published scientific research papers in the fields of educational leadership, education reform, and professional development of educators. She participated in numerous conferences, seminars, and workshops on the development of education, and in 2015, she received the Endorsement State Award in the field of education from the National Council for Culture, Arts, and Heritage for her various contributions in the education fields.
Dr. Hissa received her Bachelor of Science and Education degree from the University of Qatar, and her Master's and PhD in educational leadership from Ain Shams University.
Dr. Hareb Mohammed Al-Jabri
Assistant Professor of Environmental Sciences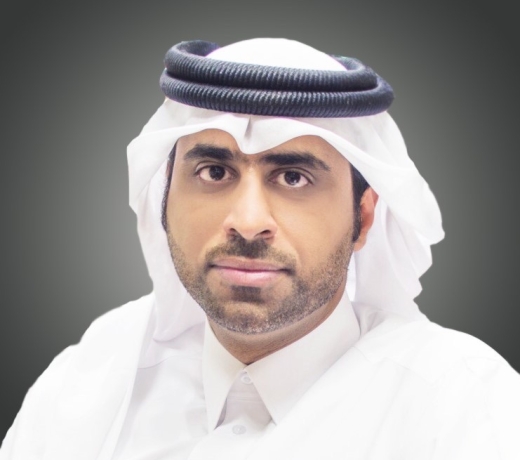 Dr. Hareb Al-Jabri is an accomplished academician in biotechnology, environmental studies, and food security. He earned his bachelor's in Biology from Qatar University in 2003, and later completed his master's in biochemistry from Virginia Tech University in 2010 and his PhD in Bioprocess Engineering from Nantes University in 2018. Dr. Hareb has published several scientific research papers in international peer-reviewed journals and received the Personnel of Future Leaders award from the French Ministry of Foreign Affairs and the European Union in 2018. He has held several administrative positions at Qatar University and was a consultant for the Ministry of Municipality and Environment. Dr. Hareb has also participated in various national committees, including the Food Security Committee and the Climate Change Committee.
Dr. Hareb's professional journey is marked by his leadership of several scientific research teams, including the Algae Technologies Research Program, and his roles in governmental agencies such as executive director of the Qatari Scientific Club and founder and general manager of the Islamic Centre for Halal Products Accreditation. His administrative positions at Qatar University include Biofuel Project Manager, Manager of Innovation and IP, Director of the Center for Sustainable Development, and Associate Director for Technology Commercialization. Dr. Hareb's contributions to his field and community have been recognized nationally and internationally, making him a highly respected figure in the academic and scientific community.
Eng. Ibrahim Hashem Al-Sada
Advisor to the Minister of Youth and Sports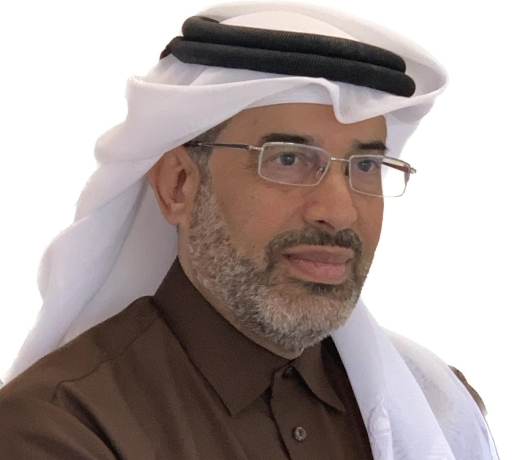 Mr. Ibrahim Hashem Al-Sada is an accomplished engineer with a distinguished career spanning over three decades. He received his bachelor's degree in civil engineering in 1986 and later earned his master's in traffic engineering in 1997. He began his professional journey as the Head of the Maintenance Department at the Ministry of Public Health in 1990. He was also the Director of the Water Projects Department at Kahramaa in 2000, and the Director of the Roads Sector at the Public Works Authority in 2004, overseeing several key projects. In addition, Mr. Al-Sada is an accomplished article writer and author of six books, including five on management.
Engineer Al-Sada has held several leadership roles. He served as the Secretary General of the National Committee for Integrity and Transparency, the Acting President of the Audit Bureau in 2011, chairman of the board of directors of the joint company between Qatari Diar and French VINCI (2008-2011), advisor to the Minister of Culture, as well as an advisor to the Minister of Sports and Youth. He is a certified lecturer at the Institute of Administrative Development and a founding member of the Qatar Society of Engineers. Mr. Al-Sada is also a member of the Board of Directors of the Qatar Red Crescent, a member of the Board of Trustees of the Anti-Doping Lab Qatar, and a founder of the Qatari Forum for Authors.